Kpep Syiem Sohra
A place used for cremation of Sohra Syiemship. Located at Pomsohmen, Sohra, East Khasi Hills District Meghalaya by the side of the Pomsohmen Stream. There are two monuments of cultural importance, one is of the mother of the ruling Syiem and one is for the Syiem (chieftain). According to customs, the successor of the deceased Syiem, would have to perform cremation rituals of his predecessor.This rituals involves lots of expenditure and time.
Mawkdok Dympep Valley and The Duwan Sing Syiem Bridge
About 38 kms from Shillong, one comes across a beautiful bridge known to the locals as the Duwan Singh Syiem Bridge, that is the entrance to the Sohra tourist circuit. It is one of the most prominent attractions place. The Forest Department has constructed a view-point where visitors can stop a while and enjoy the spectacular natural beauty.Most Tourists get the first view of the Mawkdok Dympep Valley, which extends right up to Cherrapunji, from this view point. Getting a clear view is a matter of chance as mostly it is obscured by clouds.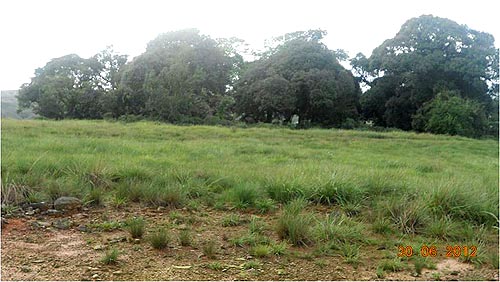 Lawsuidnoh (sacred groove)
Located at Laitryngew Village 4-5 kms before reaching Sohra Market.This Law kyntang (Sacred Forest) is named after a deity 'Lawsuidnoh', Lawsuidnoh is the presiding deity of this sacred grove and legend has it that he was kind and generous and was instrumental in teaching the people of Sohra the art of making iron out of a stone known as Mawsarangnar. It is believed that it was Lawsuidnoh who killed the thlen (legendary serpent) using a hot quartzite. Till date this sacred grove has vivid signs of pits believed to have been dugged out by the legendary serpent to hide and devour his human victims .